Jessica Torres recommends The Rock Tour
Reviews
Posted: February 24, 2020 11:10
Thanks for the review from Jessica Torres who joined our 4 Day Rock Tour from 19/02/20 - 22/02/20.
What can I say, this tour really exceeded my expectations. I highly recommend anyone who wants to experience the Aussie outback on a budget and has limited time to do this tour.
Below are some of the aspects that I liked about the tour: 
From the very start of my booking I was emailed my itinerary so I knew exactly what was going on. I then had to change my pick up location days before the tour began and had a staff member call me and reassure me the changes were made and updated. I was then emailed an updated itinerary with my new pick up location & drop off. 
The tour is reasonably priced. You get what you've paid for, the description is very accurate. This is not a luxury tour with a broad food menu & luxurious sleeping arrangements but it is comfortable and you get to experience the outback.
The group size is ideal, not too big not small. The bus fits 21 people but my tour had 15. We all got to know each other so quickly that by the end of it we had exchanged numbers and were sad to leave each other!
I initially (as well as some of the other girls in the group) had my reservations about sleeping outside, with no tent, just the swags but the night sky was breathtaking. Everyone slept close together and to my knowledge no bugs disturbed my sleep at night! - which is what I was most worried about.
The food exceeded my expectations as well as the quantity! Everyone had enough to eat and even enough for seconds! I am vegetarian and they were so accommodating to my dietary requirements. my veggie meal was cooked seperate to the meat.
Every campsite had showers & clean toilets which exceeded my expectations - yet again!
Ice blocks we're frozen in advance at the first campsite to make sure we had cold water the following days. Water tanks were refilled daily so we would never be out of water.
Read More
---
Greyhound - 7 Day Whimit Pass
Uluru
Posted: February 17, 2020 14:22
The Greyhound bus provides a really easy way to travel around Australia. There are hop on hop off passes and the most popular route is from Sydney or Melbourne up the East Coast to Cairns. 
Greyhound has the largest terrestrial transport network in Australia, and with a Whimit Pass you can visit bucket-list cities like Cairns, Townsville, Airlie Beach, Agnes Water, Rainbow Beach, Hervey Bay, Noosa, Brisbane, Surfers Paradise, Byron Bay, Sydney, Canberra, Melbourne, Adelaide, Alice Springs and Darwin – all with the one ticket! 
This Whimit pass still has the hop on hop off feature but, it allows you to travel in any direction that you please on any route!
Read More
---
The Uluru Climb - Has this changed our tour?
Uluru
Posted: February 11, 2020 11:47
The Uluru-Kata Tjuta National Park Board of Management decided they will close the climb to the top of Uluru on 26 October 2019. The Board is made up of a majority of traditional owners of the park.
Read More
---
Australia Bushfires - Northern Territory Open for Business
Posted: January 28, 2020 15:36
Over the last few months you would seen online and on TV the Bush fires that are taking place across Australia. The fires have been burning across the states of New South Wales, Victoria and South Australia. Like all Australians, our hearts go out to the families and communities who are impacted by the bushfires.
Read More
---
We partnered up with Nicole from "Those Who Wander" www.thosewhowander.info
Uluru
Posted: August 20, 2019 14:03
CAMPING IN THE AUSTRALIAN OUTBACK
THOSEWHOWANDER AUGUST 2, 2019
Hey how ya goin'?? Today's post is going to cover all things Northern Territory, Australia. Commonly known as "The Outback", the Northern Territory is the vast and desolate "Red Centre" of Australia that contains Uluru, Kakadu National Park, Darwin, and the remote country town of Alice Springs.
I knew nothing about the Outback prior to study abroad, as most student travelers tend to stay on Australia's east coast, until my good friend and fellow travel lover, Becky (check our her travel insta here!), told me about her solo trip with the Rock Tour and how it was the highlight of her semester abroad! I was planning on booking this tour with my friends for June 2019 but ended up doing it solo. This trip turned out to be one of the best experiences I've ever had!
MAY 30, 2019: DAY ONE
I flew alone from Sydney to Ayers Rock/Uluru. Landing in the Outback was an adventure within itself- because we were landing in the middle of a desert, the wind was so strong that the plane had to do multiple circles above the minuscule airport to get in position to land. Also, the only life below me was the occasional dried up plant in midst of infinite red rock. It looked like I was about to touch down on Mars.
When I arrived at the airport I was greeted by my guide, Mishka, and the rest of the group who had already arrived. The only seat left in the bus was shotgun- it was mine for the next three days.
Our first stop was to Uluru's Cultural Center and then to our first base walk. Mishka led an educational walk around a section of Uluru, pointing out various Aboriginal paintings and significant caves. It was in this moment that I became fully aware of the sheer size of Uluru; I felt like an ant walking along next to it.
I was also made aware of the sacredness of the site. It is extremely disrespectful for people to climb Uluru. During the 1970s, a chain was built on Uluru to help guide hikers to the top. This was the largest tourist attraction in the area at the time and put Uluru on the map. Despite the efforts made by locals plus the addition of many new attractions in the area, the rock is still climbed multiple times each day. On October 26, 2019 the climb will be closed for good, a decision made by the traditional owners of the land and Uluru-Kata Tjuta National Park Board!
After the first walk we cruised to another point at the base of Uluru for a dusk walk. I really enjoyed myself in these moments- breathing in the fresh air, chatting with new friends from various countries around the world, and appreciating the unique scenery around me.
Our next stop was the sunset viewing area! Uluru is famous for its scenic sunsets and sunrises, so by the time we got there, it was already packed with eager tourists and inspired photographers. I took some pictures with my new friends, Flo and Anna, and enjoyed champagne and dinner as we witnessed Uluru change in color from a golden orange to a deep purple. It was one of the most magical things I've ever seen!
After dinner we checked into our accommodation for the night. Home sweet home consisted of a large patch of dirt and a fire pit. No inside, no beds, no cots, no tents, no nothing. I slept on the literal dirt floor in a sleeping bag and a swag. A swag is essentially just a larger, thicker sleeping bag that you put your actual sleeping bag in to help you stay warm. So ya. To say I was out of my comfort zone is a massive understatement. I was so nervous to sleep that I avoided setting up my "bed" for the first hour on site. When I finally got around to it, I conveniently positioned myself in the middle of everyone else, forming a human barrier and sense of comfort around me. I slept between Anna and Flo, and actually had a lot of fun setting up my bed. We used sticks to draw lines around our swags in an effort to keep snakes away. Apparently they sense the human activity and leave once they approach the line. We also sprinkled (or if you're me- poured) salt all around our swags in an effort to poison any curious spiders. I later found out both of these tricks were BS, but they did bring me peace of mind each night!
Luckily, I had no encounters (at least that I know of) with any critters. I definitely didn't sleep my best, especially since the temperature dips below freezing in the Outback when the sun goes down, but I was so proud of myself for surviving my first night in the desert!
MAY 31, 2019: DAY TWO
Today was a very busy day. We woke up at 4:30 am when it was still pitch black out and freezing, but I can't complain because the first thing I saw after opening my eyes was a sky full of stars. Incredible! We packed up and drove to Uluru's sunrise viewing area for breakfast. It was still dark out as we boiled water and ate, but getting up early was so worth it as I got to see the most heavenly sunrise from start to finish! This experience was so peaceful and one I will always remember.
We hit the road and drove to the Olgas, or Kata Tjuta National Park, another famous series of large rocks that we got to hike! This morning's hike was through the Valley of the Winds. It took 3 hours to complete and was quite challenging at times, but the views were incredible!
Read More
---
The Ultimate Red Centre Itinerary
Uluru
Posted: August 4, 2019 12:07
We teamed up Abbie from One World Wanderer www.oneworldwanderer.net @oneworldwanderer
The Ultimate Red Centre Itinerary
The Red Centre of Australia has been on my bucket list since I was a child. Growing up in Australia, I heard a lot about the magnificence of Uluru and the incredible colours of the desert. It's not that I never had the opportunity to visit. My parents tried to convince me to join them on a road trip when I was seventeen. But, with all the overseas adventures I wanted to do, and the age-old attitude that Australia will always be there, I put it on the back burner and turned my attention elsewhere.
When I heard about the 30-day Greyhound Australia Whimit pass, my thoughts instantly turned to the Red Centre. I could save myself a fortune just by bussing it to the heart of Australia, and I wouldn't have to worry about the stresses of driving myself. But still, the idea of travelling alone as a solo female had me wary.
That's when I heard of The Rock Tour– the perfect three day Red Centre itinerary that would help me tick off every one of my Red Centre dreams.
The Rock Tour is a Northern Territory owned company since 2006 who specialise in budget-conscious travellers looking for a high-quality tour and cultural experience of Uluru at an affordable price. They offer several variations of their itineraries, however, the best, in my opinion, is the 3-day-2-night Alice Springs to Alice Springs round trip.
The Rock Tour itinerary is specifically designed to give tourists a fun and genuine Aussie camping experience of The Red Centre at an affordable price. And that is exactly what they do!
LEAVING ALICE SPRINGS
The tour started in Alice Springs at the ripe time of 5 am. The drive to the Uluru-Kata Tjuta National Park is quite a long one, so we each got picked up from our accommodation and straight on the road. Most of us slept the first few hours of the trip until the sun began to rise over the red desert, which offered one of the first glimpses into the gorgeous outback we were about to explore!
After a pit stop at the Erldunda roadhouse, the last turn off before entering the Uluru-Kata Tjuta National Park, we were each revived by a coffee and some fresh air. It was there that our tour guide, Ben, introduced himself and gave us an introduction to the tour we were about to do.
Then, off we went. First stop: Kings Canyon!
The drive from Erldunda to Kings Canyon started out with everyone introducing themselves. On board, we had two Parisians, two people from Switzerland, three Americans, two Chinese Girls, a German, the guide from New Zealand, as well as myself representing Australia.
Time flew by as we each got to know one another. I found it fascinating hearing everyone's experiences in Australia so far. The consensus? Vegemite was gross, border security was the most epic TV show, everything in Australia was dangerous, Milo was delicious (even with just water), cherries were the most popular fruit, and Koalas were adorable.
ARRIVING AT KINGS CANYON
When we arrived at Kings Canyon, it was finally time to stretch our legs and hike! We filled our water bottles with the recommended 1L per hour we planned on hiking, and off we went, up into the beautiful wilderness of the Australian outback.
This part of the trip was one of my absolute favourites. If I had gone all the way to The Red Centre of Australia just to see this, it would have been worth it. I'd seen images of the Canyon before, but nothing prepared me for the epic beauty of nature quite like a hike through the rugged, outback terrain.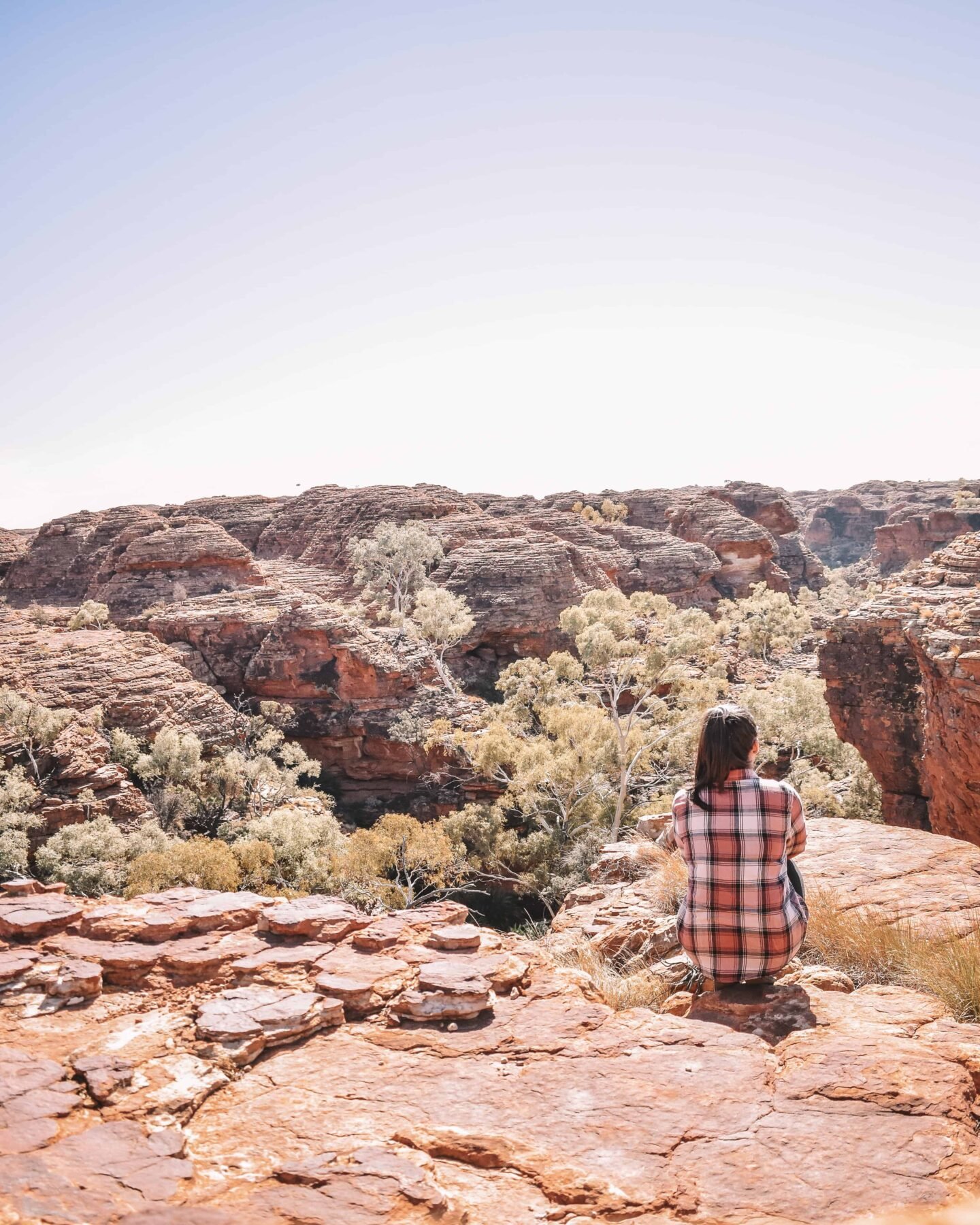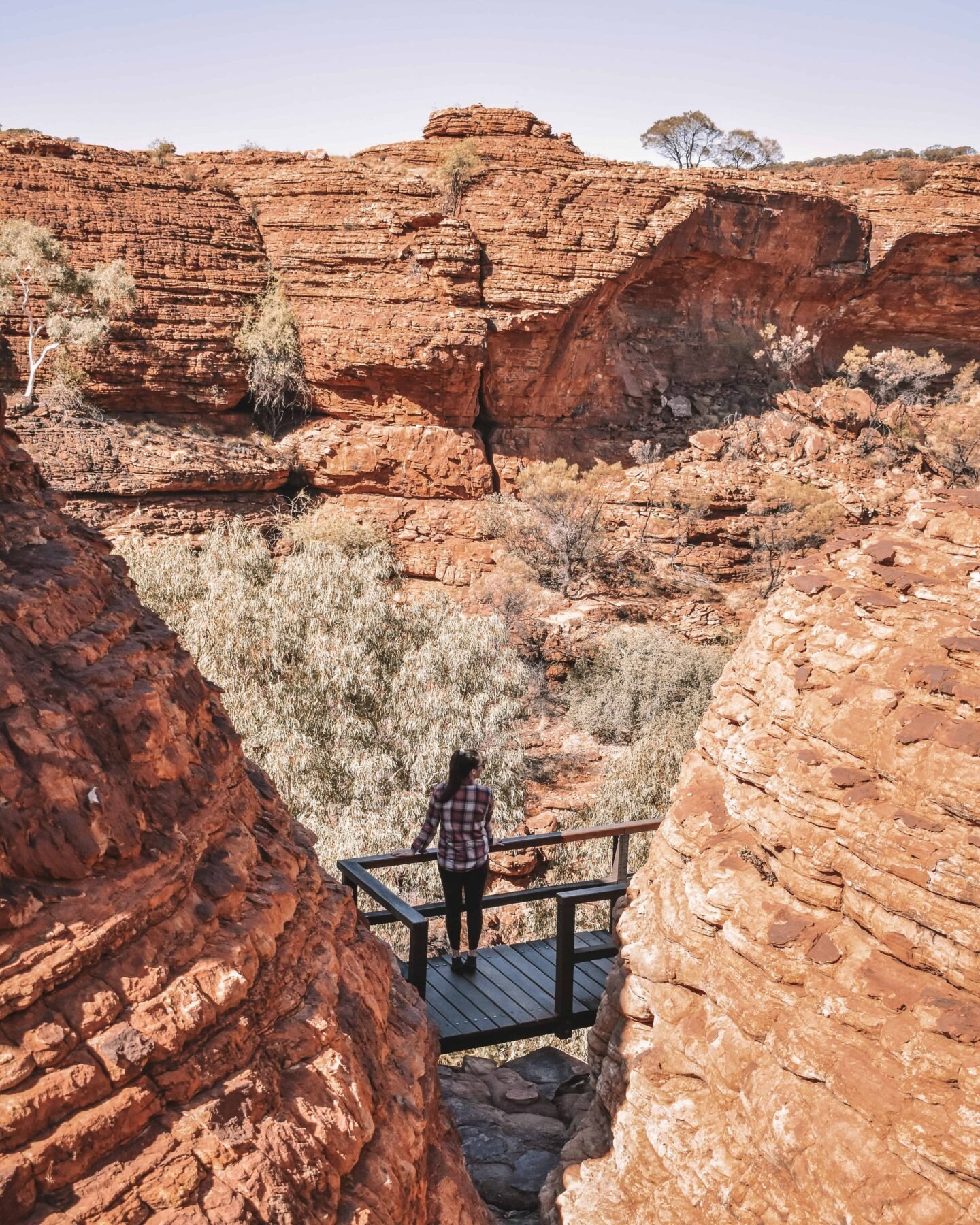 The hike begins with a 500 step climb to the top of the rim. This is the most strenuous part of the rim walk. Once at the top, walkers are treated to scenic views and stunning canyon scenery.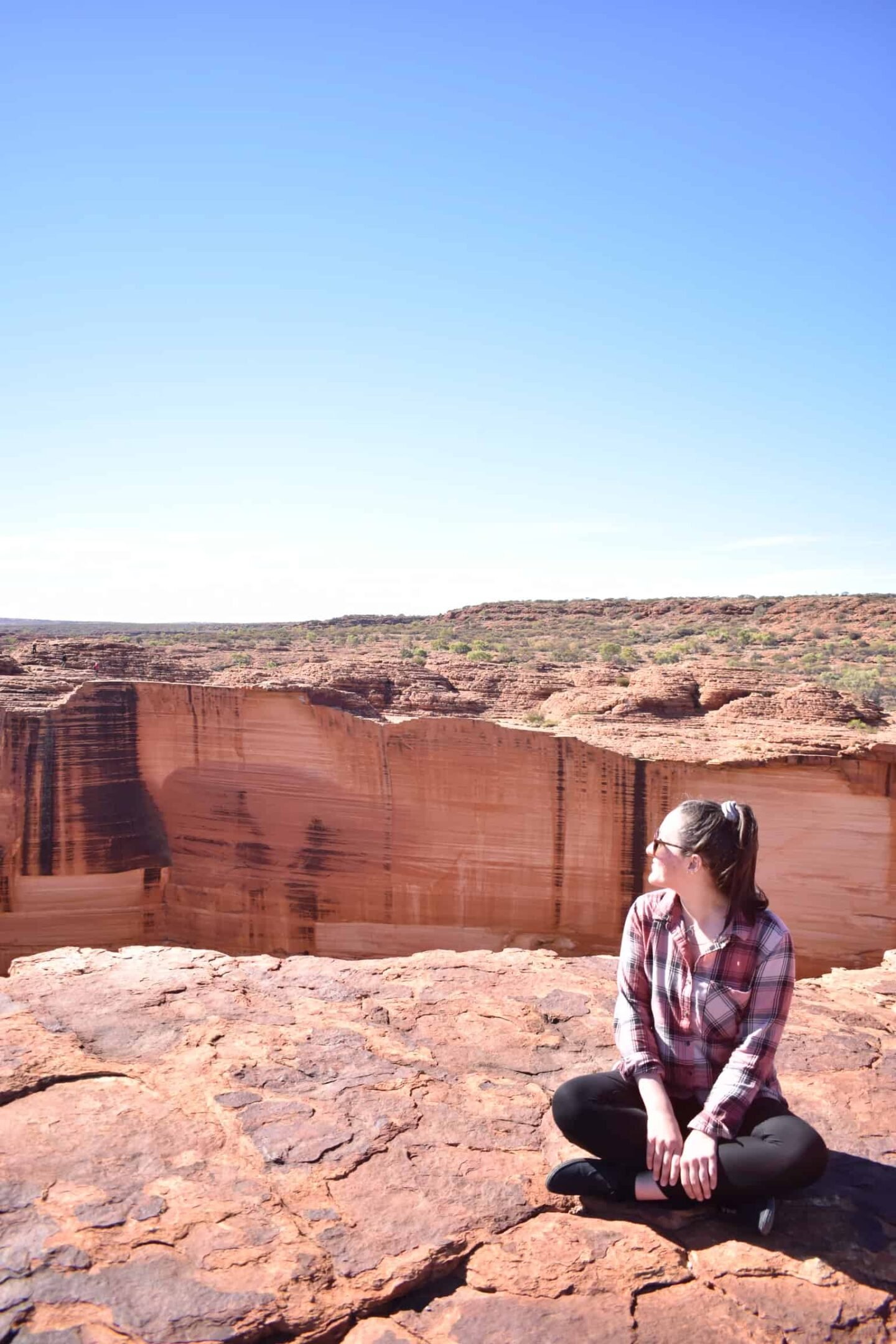 In total, the rim walk is 6km along the upper rim of Kings Canyon. It was short (taking us a little less than 3 hours), incredibly scenic, and just challenging enough to keep things fun. Walking along the red stone paths, getting a bird's eye view of the outback, and the awesome views of the canyon walls were incredible.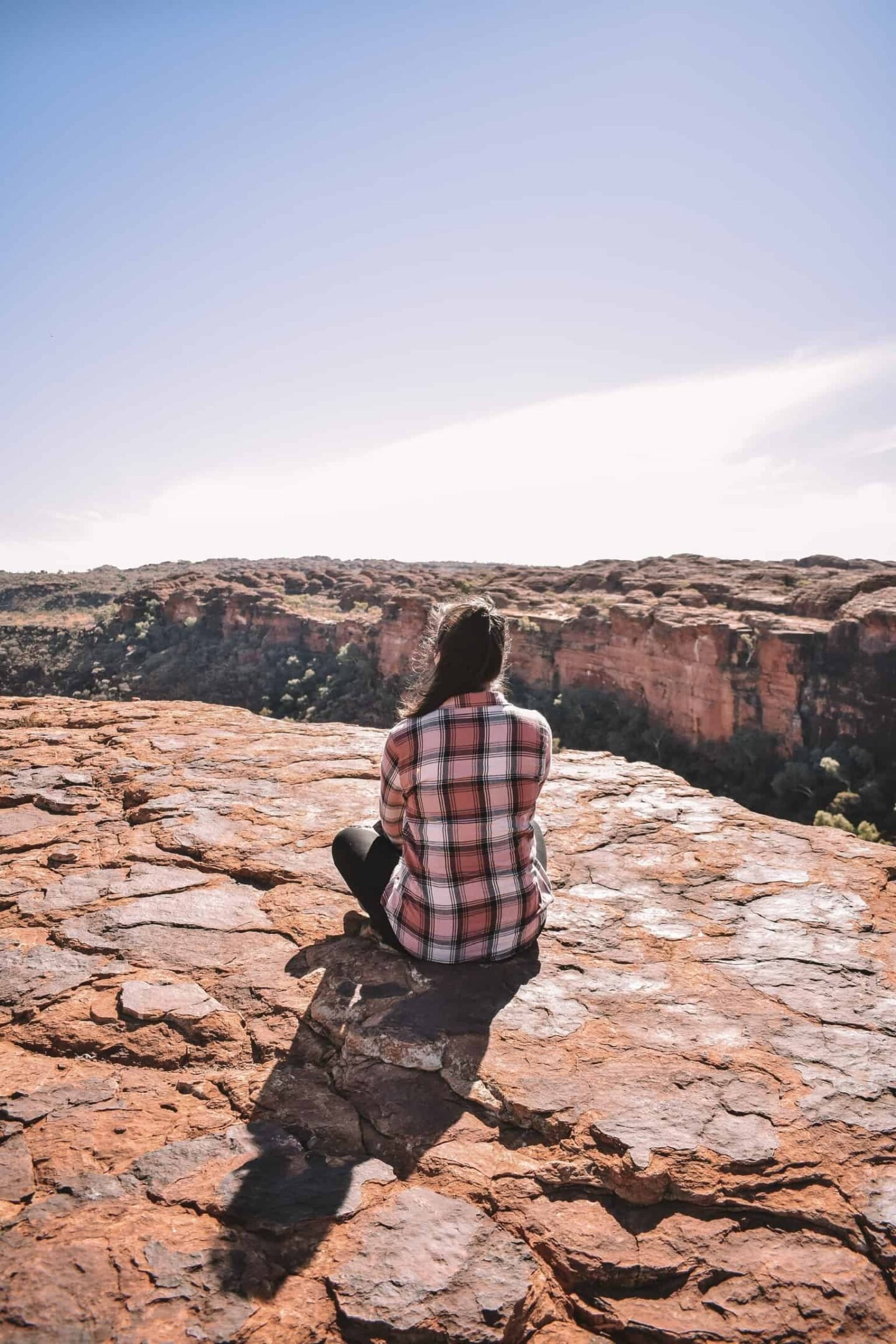 The landscape here is amazing. The palette of colours, with the reds and oranges of the rocks, the green leaves on the trees, the small patches of bright blue sky, and the white puffy clouds, was gorgeous. I loved it so much that I was taking a record number of photos, which speak for themselves!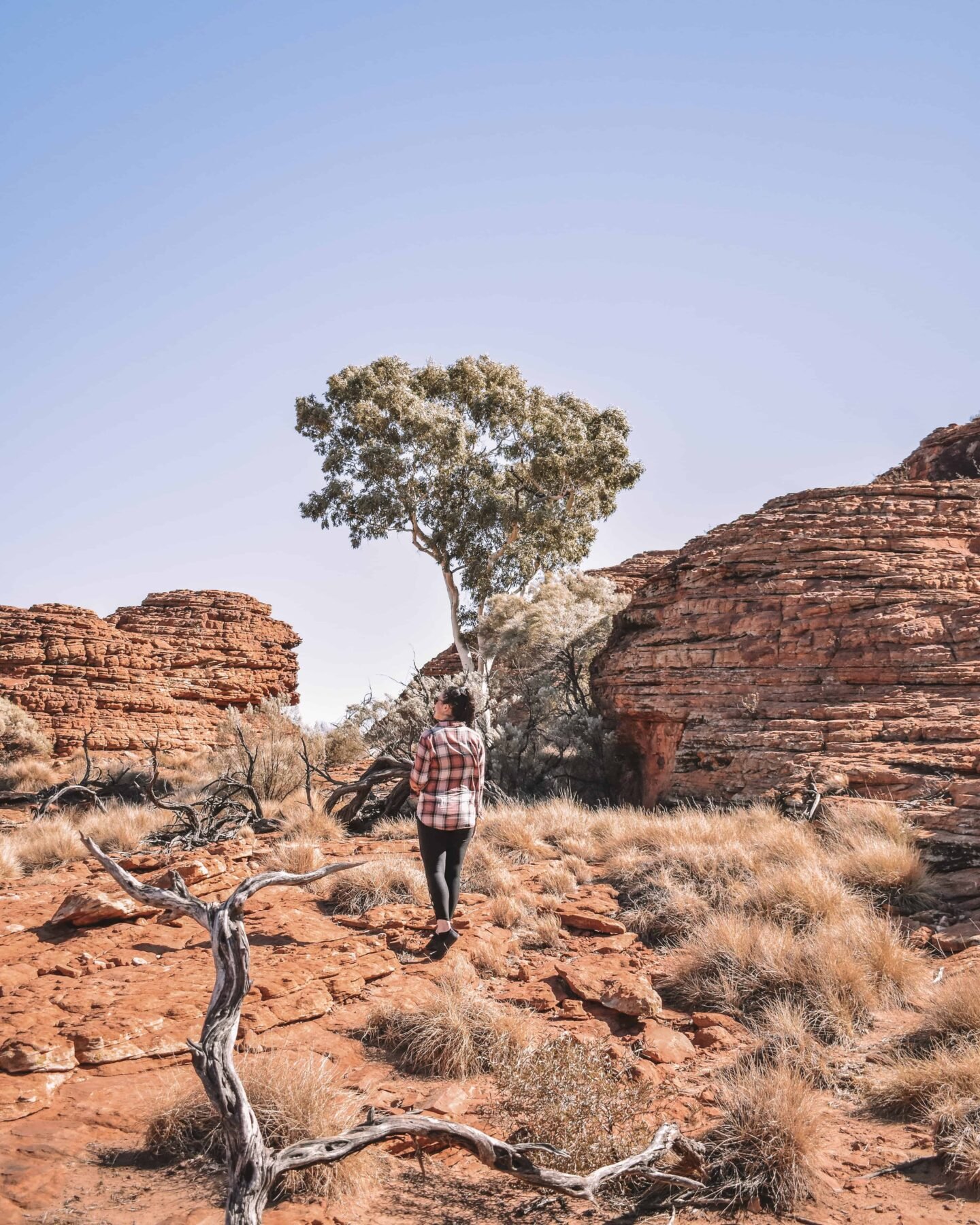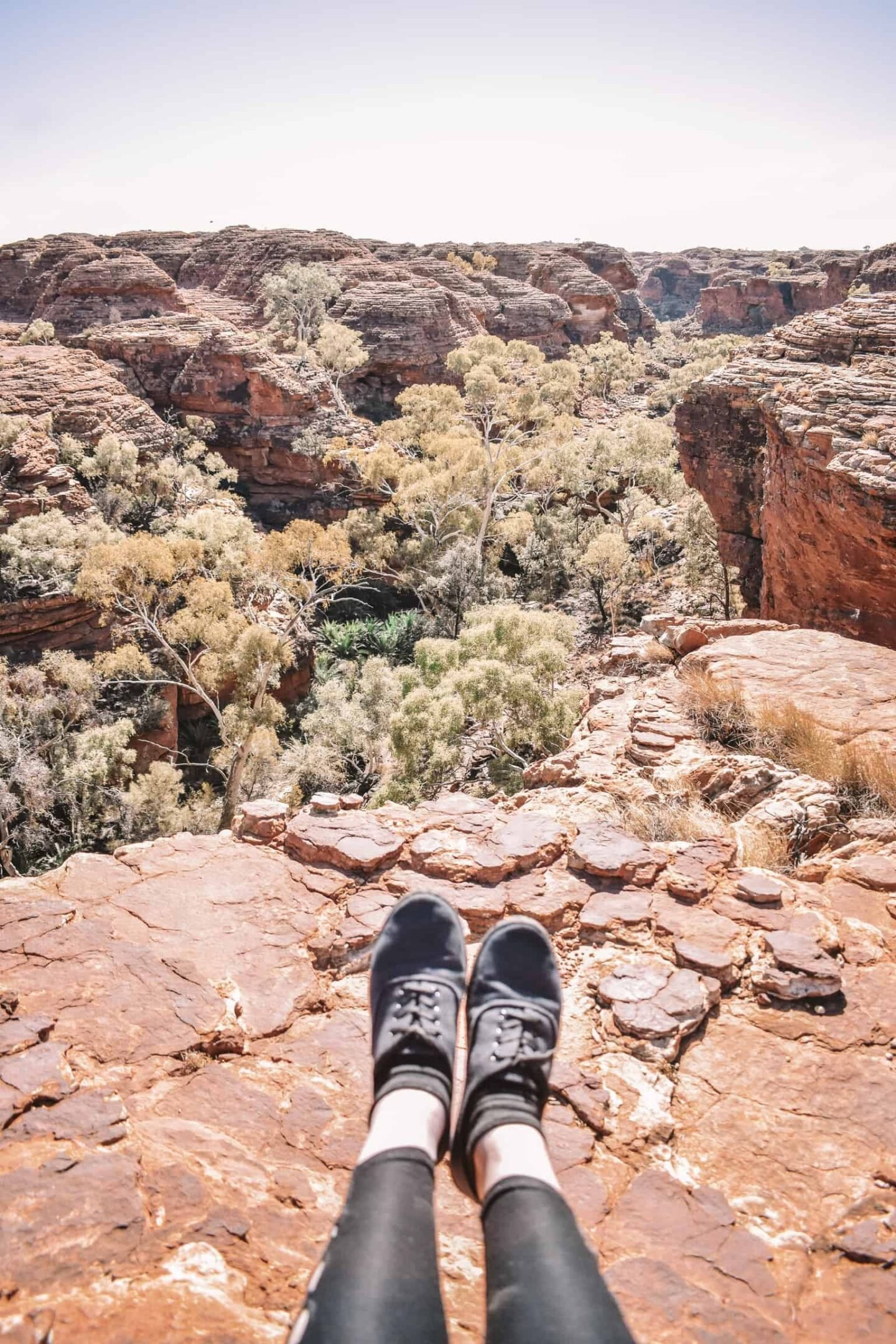 PICKING FIREWOOD FOR CAMPING
I'm Australian; I've grown up camping and travelling outback areas many of times, but one thing I'd never done, despite the countless fires I'd grown up having on friends properties and cold nights camping with my family, was pick firewood. When the tour guide, Ben, pulled over on the side of the road, we were all fretting something was wrong. Had we hit a large animal? Were we having engine problems?
Suddenly a file of Australian horror movies flashed through my head. Stuck in the middle of the Australian desert with no mobile reception was the last thing any of us wanted to experience.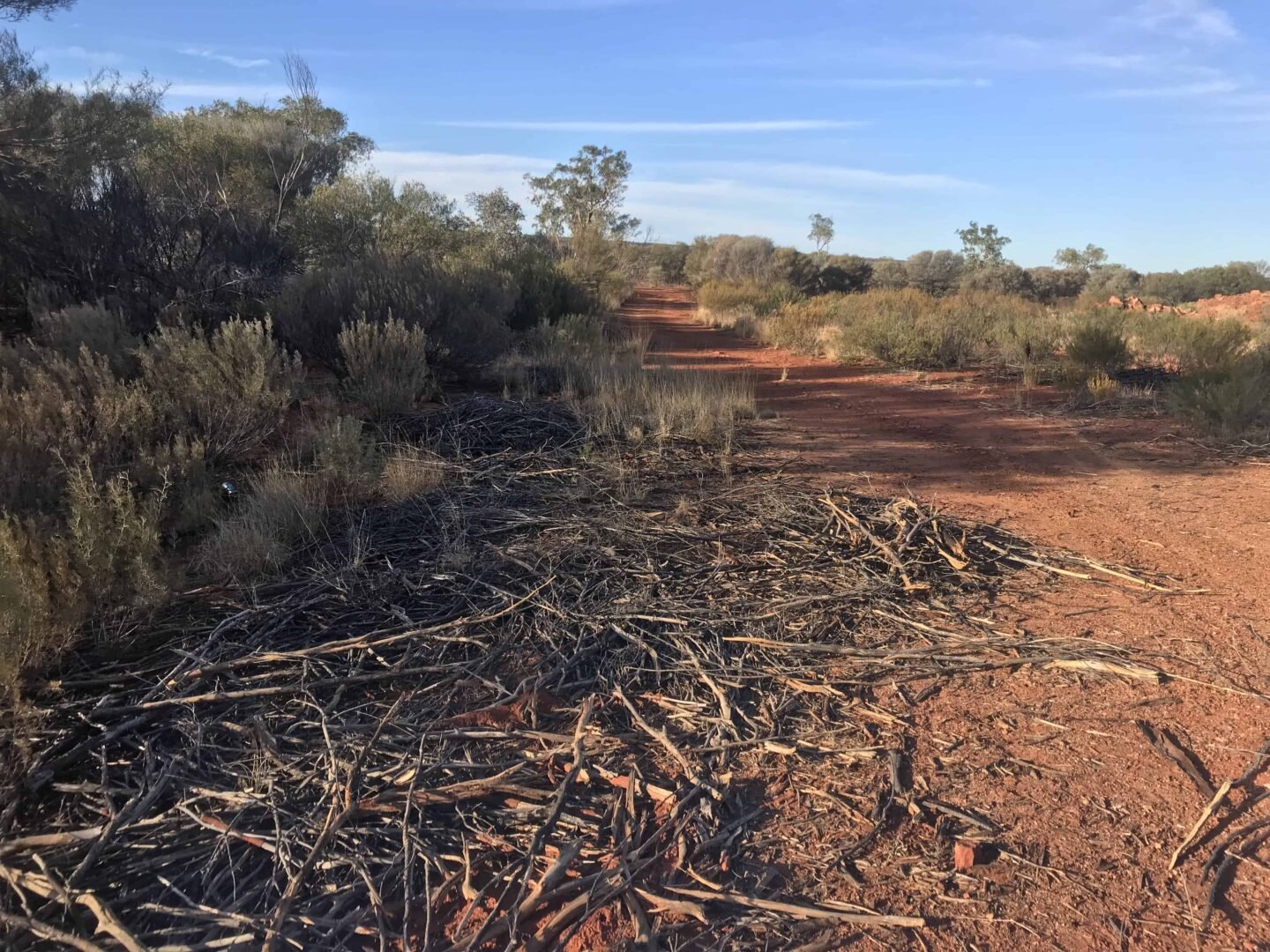 Thankfully, Ben had noticed the perfect pile of sticks- firewood! As a group, we collaboratively sourced, cut, and tied down the firewood that would be our only sense of warmth for the winter's night ahead.
Although I think my firewood skills are far from good enough to keep me alive if I ever find myself alone in a desert, the experience was one for the books!
CAMPING AND STARGAZING
Having the opportunity to free camp in the middle of the Australian desert is something I recommend every person should add to their bucket list. There's something about the fresh air, the rustle of dingoes stalking their prey in the night, and the scent of burning logs on the fire that fill your soul with an irreplaceable sense of peace.
It's an experience The Rock Tour knows how to put on perfectly.
We made camp at the secret Rock Tours location just as dusk was setting in. While half the group set about creating the biggest and best bonfire I'd ever seen, the other half created an authentic camping dinner- cooked entirely with the coals of the fire.
Like every other meal I had on this tour, the dinner far exceeded my expectations. As a vegetarian, I expected that outback camping would entail eating two-minute noodles or cold bread with vegemite. Instead, I had the most delicious vegetarian chilli con carn!
After the spectacular sunset, and after we ate the delicious meal we prepared- true camper style- we got to sit back and look up at the quarry that revealed itself above us.
No amount of leaning back could ever encapsulate the blanket of stars that spread out above. The Southern Hemisphere is home to some of the most amazing views in the galaxy, and it was right there before us.
After taking our turn at Astrophotography, we each unrolled our swags and settled in for the night. Although I think I half froze to death throughout the night (winter in the outback is no joke guys), the sound of the crackling fire and the fresh, open air of the Australian Outback was enough to make the experience one of the best nights I'd ever had.
KATA TJUTA SUNRISE AND BREAKFAST IN THE RED CENTRE
You've probably seen hundreds of photos, postcards and TV commercials of Uluru and Kata Tjuta at sunrise, but it's a place you truly have to see and feel for yourself.
We had risen before dawn and packed up the campsite under the blanket of stars still vibrant as ever. Then, off we went to see our first glimpse of the magnificent Uluru.
Kata Tjuta
For our first Uluru sunrise, we headed to the Talinguru Nyakunytjaku lookout. Be warned, this is where hordes of people and tour buses converge. But, it was the perfect place to get views of Uluru and Kata Tjuta as the sun began to rise. Plus, I found that most people left as soon as there was light in the sky, meaning the entire place was empty about five minutes after sunrise.
Uluru
Even though you are still quite a distance from Uluru and Kata Tjuta, that first sighting is something special.
Uluru
While enjoying the views of the sunrise, Ben was setting up breakfast for everyone- Camper style.
Breakfast
Nothing sets your soul on fire more than camper-cooked vegemite on toast and hot coffee like overlooking Uluru and Kata Tjuta at sunrise.
Uluru
KATA TJUTA AND VALLEY OF THE WINDS
After breakfast, we headed off for a full day of adventuring around the national park. Our first destination: Kata Tjuta.
Once known as the Olgas, the rock formation known to the local people as 'many heads' is Uluru's cousin, possessing similar spiritual energy and formed by the same event that created Uluru hundreds of millions of years ago. This was an intercontinental event that thrust sedimentary rock above Earth's surface.
Kata Tjuta
Kata Tjuta, much like Kings Canyon, was one of those deliciously soul-happy walks, where you feel at one with nature. It's only a 7.5km walk, but the Valley of the Winds takes you on a journey.
A journey of self.
A journey of wonder.
A journey of nature.
There's the sense of mystery and confusion and wonder that can overwhelm any sense of space here.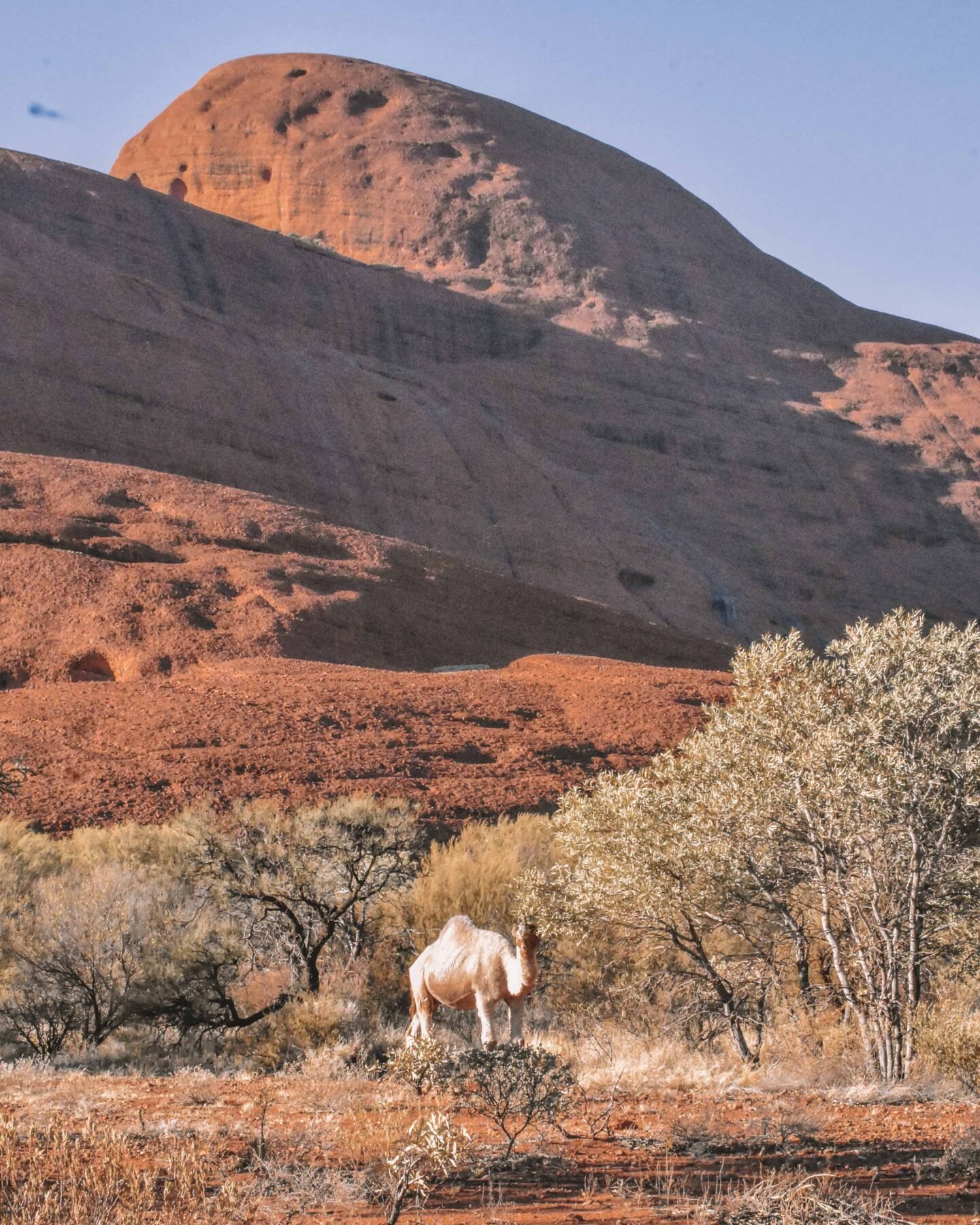 The start of our walk saw us greeted by a wild camel. This was the second camel I saw on my trip, and the only wild animal my tour mates got to see. What a treat!
Kata Tjuta
The Valley of the Winds lives up to its name. We'd been walking for quite a while before the cool (entirely forceful and rather terrifying) breeze finally hit us. It was freezing but gave us the perfect glimpse into the spiritual wonder of the place.
When you stop at the bottom, it's a good time to look around and take in the sights. It looks like most other places around the valley we had seen; full of grass, rocks and trees and framed by the incredible domes of the Olgas, but here the views spread out for miles and miles.
In places like this, it is important to take a moment to take in and appreciate your surroundings. It's almost as if the Earth speaks to you. In the quiet, I heard oceans and streams, passion and fury, life and death. The story of the past, the present, and the future all warped into the magnificent land.
The wonder in which the Earth holds almost moved me to tears.
As a group, we were given a two-hour timeframe to walk Kata Tjuta. It was a brisk walk, and one I otherwise would have taken a day to do. But, trying to get it done in time while also stopping to take hundreds of photos was an exciting adventure myself and my tour mates didn't take lightly.
THE CULTURE CENTRE
We were dropped off at the culture centre not long after lunch. Here, you can learn about Anangu culture (the local indigenous population) and the parks natural environment through exhibits and free presentations. There are also displays, an information desk, Aboriginal art galleries and several little shops and facilities like a cafe and fresh water.
The culture centre was an interesting stop on the trip! Although I'd studied a lot about the aboriginal culture in my degree, I was intrigued to learn about the local cultures of the Uluru-Kata Tjuta National Park and how they had been affected by tourism over the years.
While the others finished up inside the culture centre, I took a time out to relax and reflect on the day we'd had. What things we'd seen; what things we'd done.
Then, I was joined by a friend.
Then two.
Then, thousands.
They aren't kidding when the guidebooks recommend a fly net for anyone who visits the red centre- the flies are BAD.
ULURU SUNSET
After finishing the walk, our next order of business was to catch the sunset.
This was perhaps one of my most anticipated moments of the trip. For weeks, I'd been dreaming about watching the colours of Uluru change from red to pink to purple to orange as the sun slowly made it's decent.
Uluru
The are several lookout spots for sunset at Uluru around the town of Yulara and within the Uluru-Kata Tjuta National Park. Every lookout and sunset offers a different perspective of the vibrant and ever-changing colours.
The most popular sunset spot is the official Uluru Sunset Lookout about 10 kilometres down the road through the entrance gates of the park.
This is where we had our first up close and personal experience with Uluru. I'm sure you'll recognise this profile shot, and like myself, you'll be overwhelmed by its incredible size, presence and spirituality.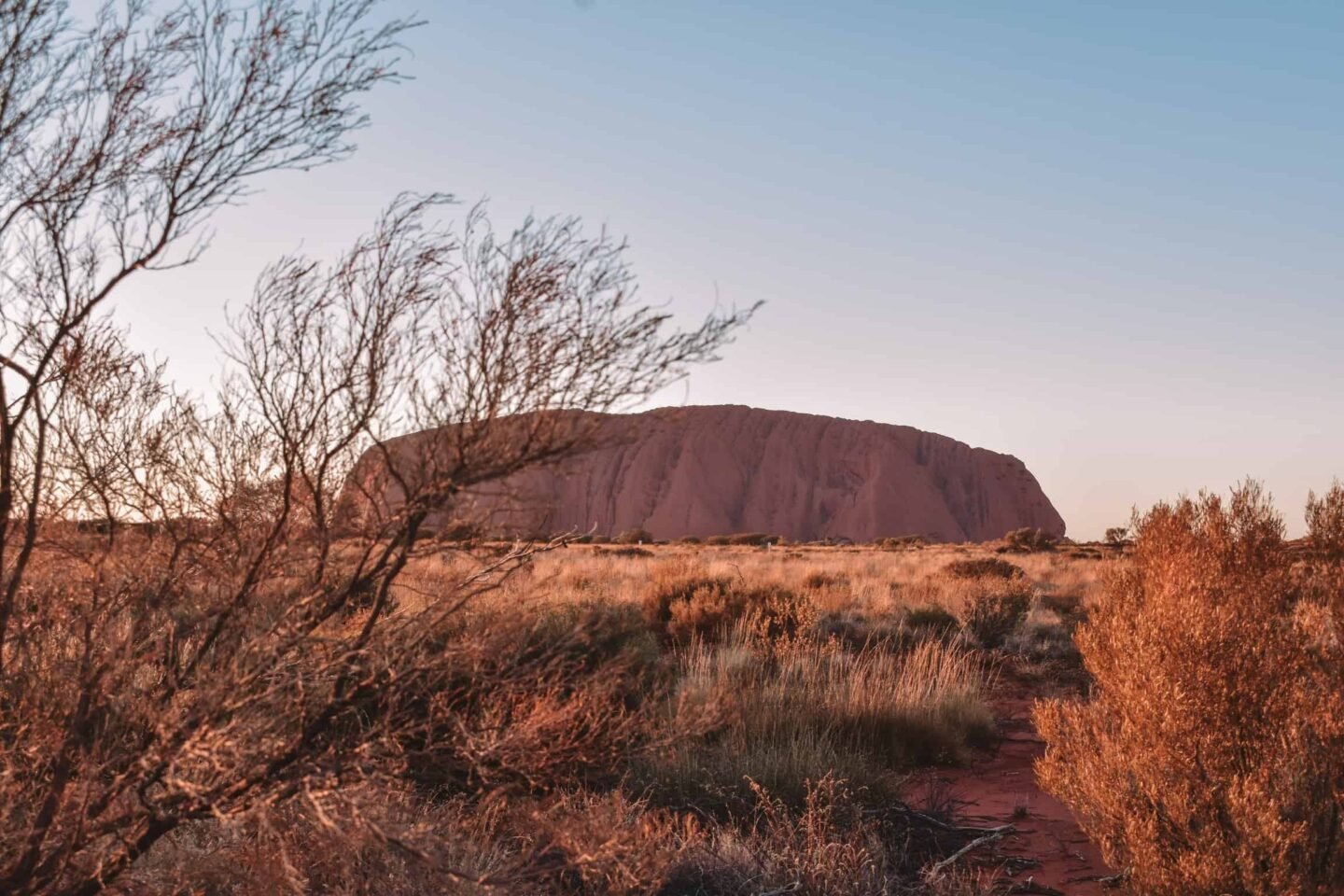 No matter the time of year you travel here, I recommend getting here early. Set up your camp chair and tripod, bring some nibbles and cold drinks and enjoy the magical transformation as the sun sinks below the desert horizon.
It was truly a magical experience.
FIELD OF LIGHTS
After another delicious dinner overlooking sunset at Uluru, I have one more adventure before heading back to the campground.
The Field of Lights is an extra option The Rock Tour allows you to add to your tour. I opted to do the tour as it had been one of my top reasons for venturing into the Red Centre- and it did NOT disappoint.
Picture this: you're walking through the frigid night, shivering to your core, but spurred on by the blanket of stars just as stunning as the night before. Then, just before you think you're lost in the middle of the outback at night, you see a light. Then you see two. Suddenly, the landscape before you transforms into a sea of colour that dips and dances and flickers as if singing just for you.
As far as the eye can see gentle rhythms of colour light up the desert.
At this point, Bruce Munro's vision of a colourful desert garden in full bloom almost needs no introduction. Some 50,000 frosted-glass spheres light up the Central Australian night in a rainbow of colours that spread in all directions. The installation found a natural home alongside Uluru and the impressive expanse of the desert and has been proven so popular its tenure has extended well past the life of one year. For some, choosing to do the Field of Lights by camel or helicopter is an option, but for me, nothing beat wandering through the lights themselves with only the stars above for company and the tears of wonder as my guide.
The exhibition, aptly named Tili Wiru Tjuta Nyakutjaku or 'looking at lots of beautiful lights' in local Pitjantjatjara is Munro's largest work to date. Overwhelming in size, covering more than seven football fields, it invites immersion in its fantasy garden of light, the stems breathing and swaying through a sympathetic desert spectrum of ochre, deep violet, blue and gentle white.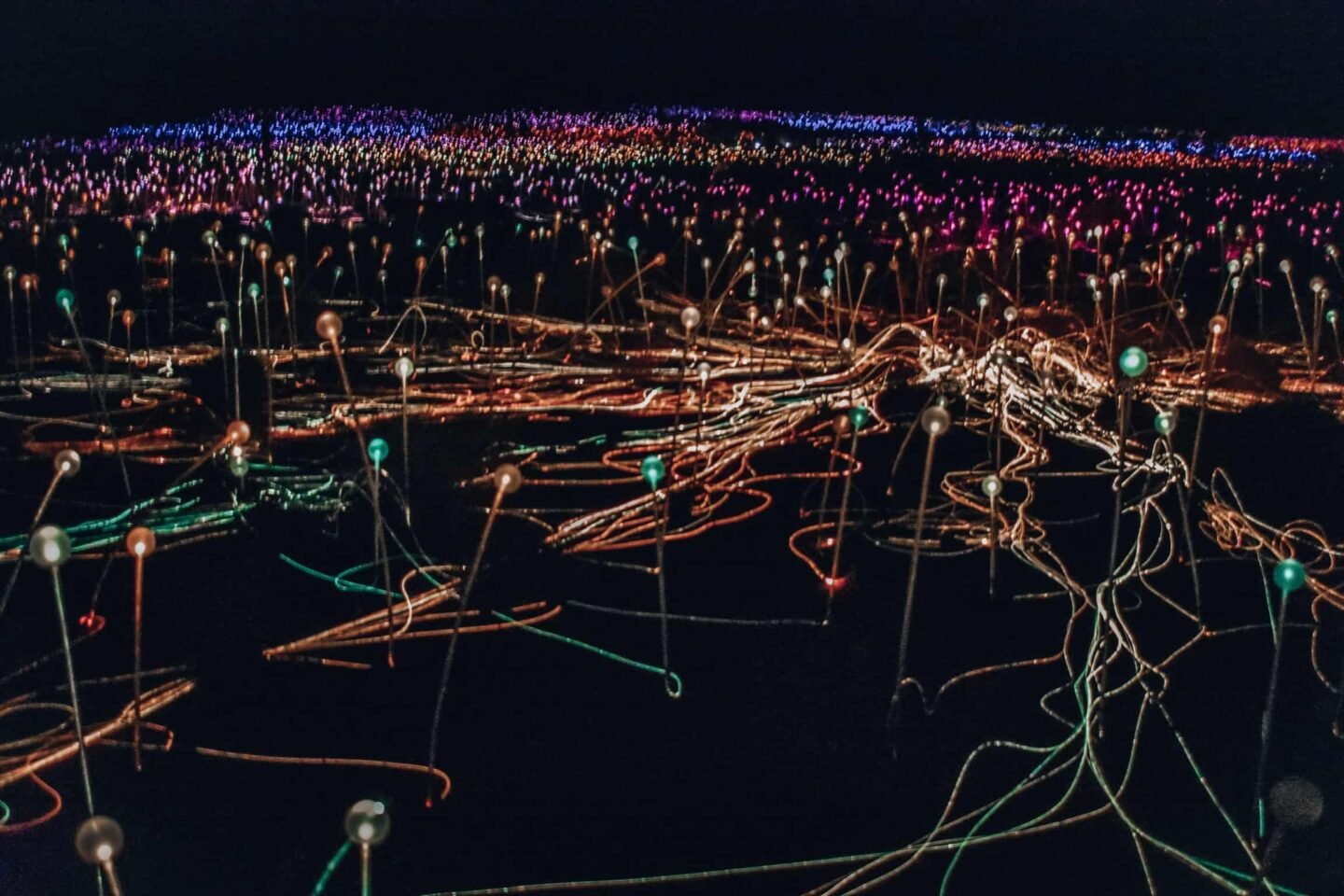 CAMPING, NIGHT 2
After journeying back through a myriad of buses, I sat back in wonder of the experiences I'd already had. Not only had I ventured into the heart of Australia and tackled some of the most bucket-list worthy walks, but I had experienced one of the most incredible light displays in the world.
I was greeted back at the Yulara coach campsite with hot milo, gentle music, and a warm, well-deserved shower. The shower was the first I'd had in two days, and the hot water, ability to use a real toilet, and brush my teeth in a basin was well-received.
After a long day of adventuring the Red Centre, we all agreed an early night was in need! After rolling out our swags (thankfully hidden by the cover of little huts to provide lots of warmth), we each fell into a deep sleep.
SUNRISE AT ULURU
Waking before dawn is an absolute must when travelling through the Australian Outback, and we weren't going to miss a single one.
Ben suggested that rather than heading to the overly popular sunrise spot, we head to the same sunset location we had been the previous night because there would be fewer people there. And right he was!
Whilst almost everyone headed to the Talinguru Nyakunytjaku lookout for sunrise, we had this spot all to ourselves.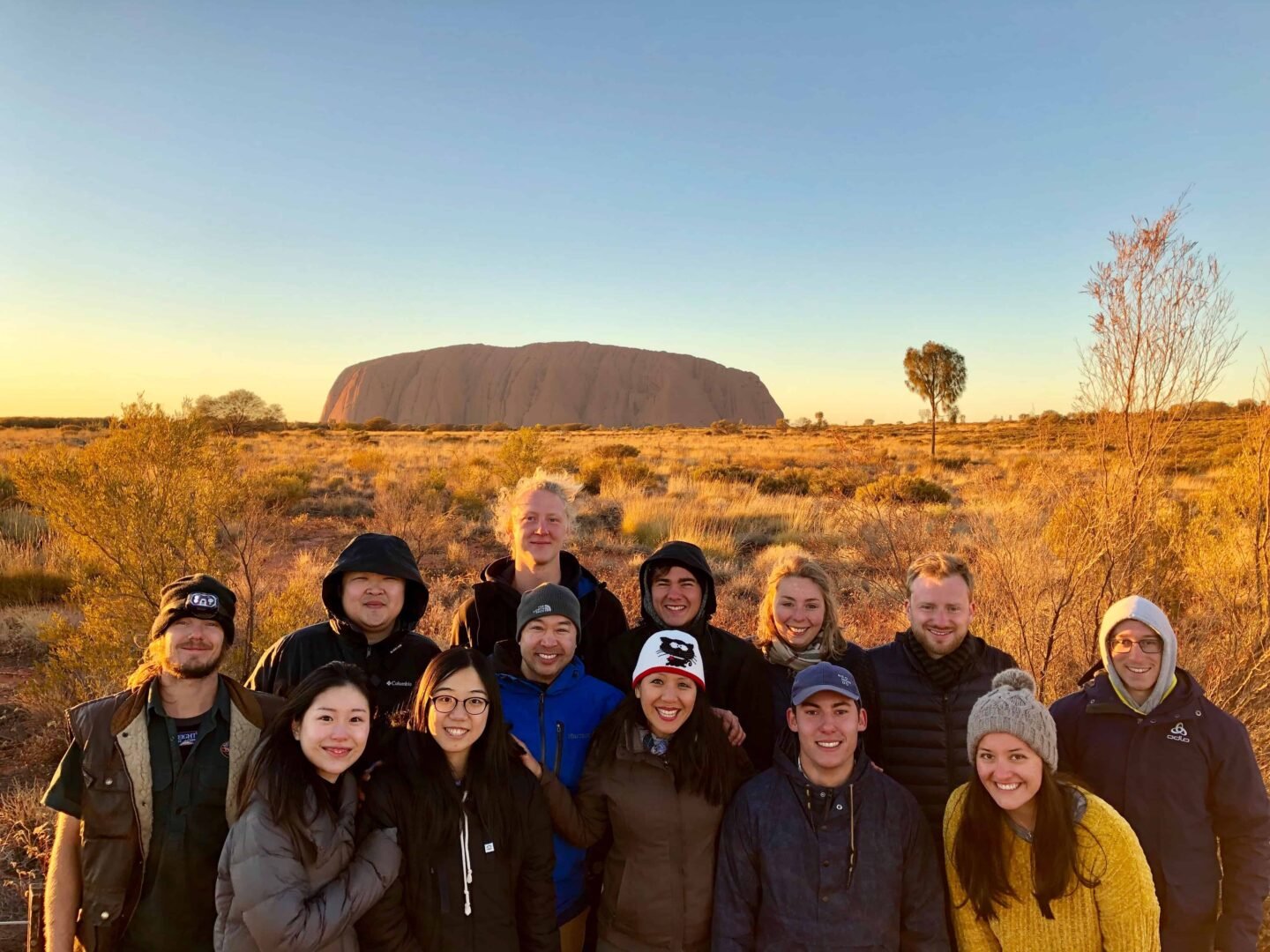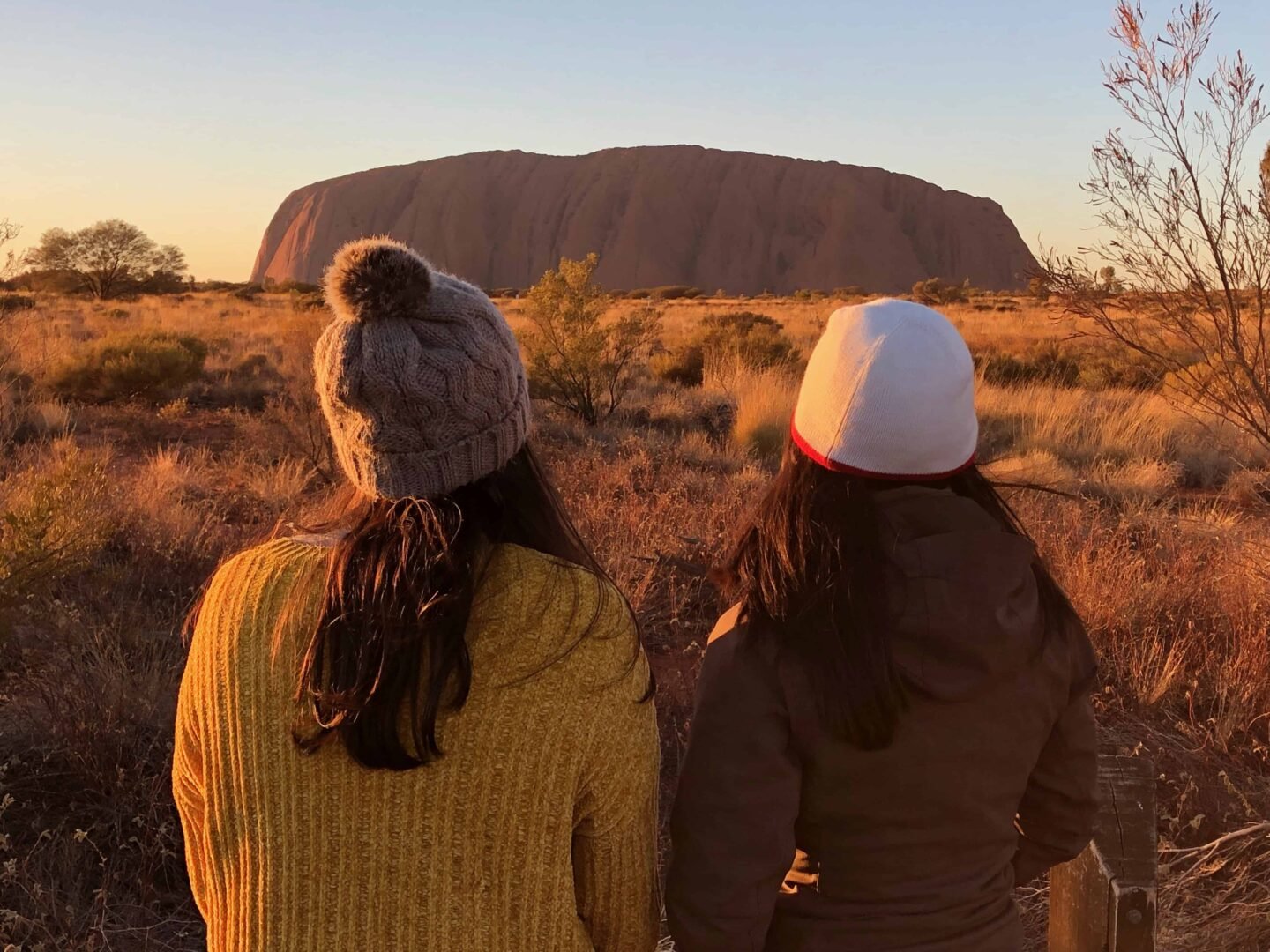 While I must say, this was probably the coldest day of my life, with no amount of clothing or hot coffee being able to warm myself up, it was all worth it for the most stunning views of Uluru!.
And I certainly couldn't complain about my morning coffee view looking this good!
ULURU BASE WALK
With another delicious breakfast overlooking Uluru done and dusted, we drove to the base of Uluru for the base walk.
As we drove toward the monolith, I leant forward and the stark red desert rushed to meet me. The patchwork quilt of spinifex grass, mulga trees and iron-rich red dirt breezed on by. Being up close does nothing to diminish the enormity and mystery of Uluru. In fact, the up-close view gave me a greater appreciation of the Red Centre's centre, from its prehistoric shell to the partially exposed hints of the network of tunnels within.
It's almost like a giant brain in the middle of the desert. It certainly makes you stop and think.
The loop walk is 10.6 kilometres around the whole base of the rock and it took my group around two hours to do it. We started really early in the morning, and so the air was freezing cold and didn't offer much reprieve for the majority of the walk.
The walk is completely flat with one short sandy section, but otherwise solid footing underneath. It's peaceful, and a great time to chat with your new friends and take in the wonder of nature.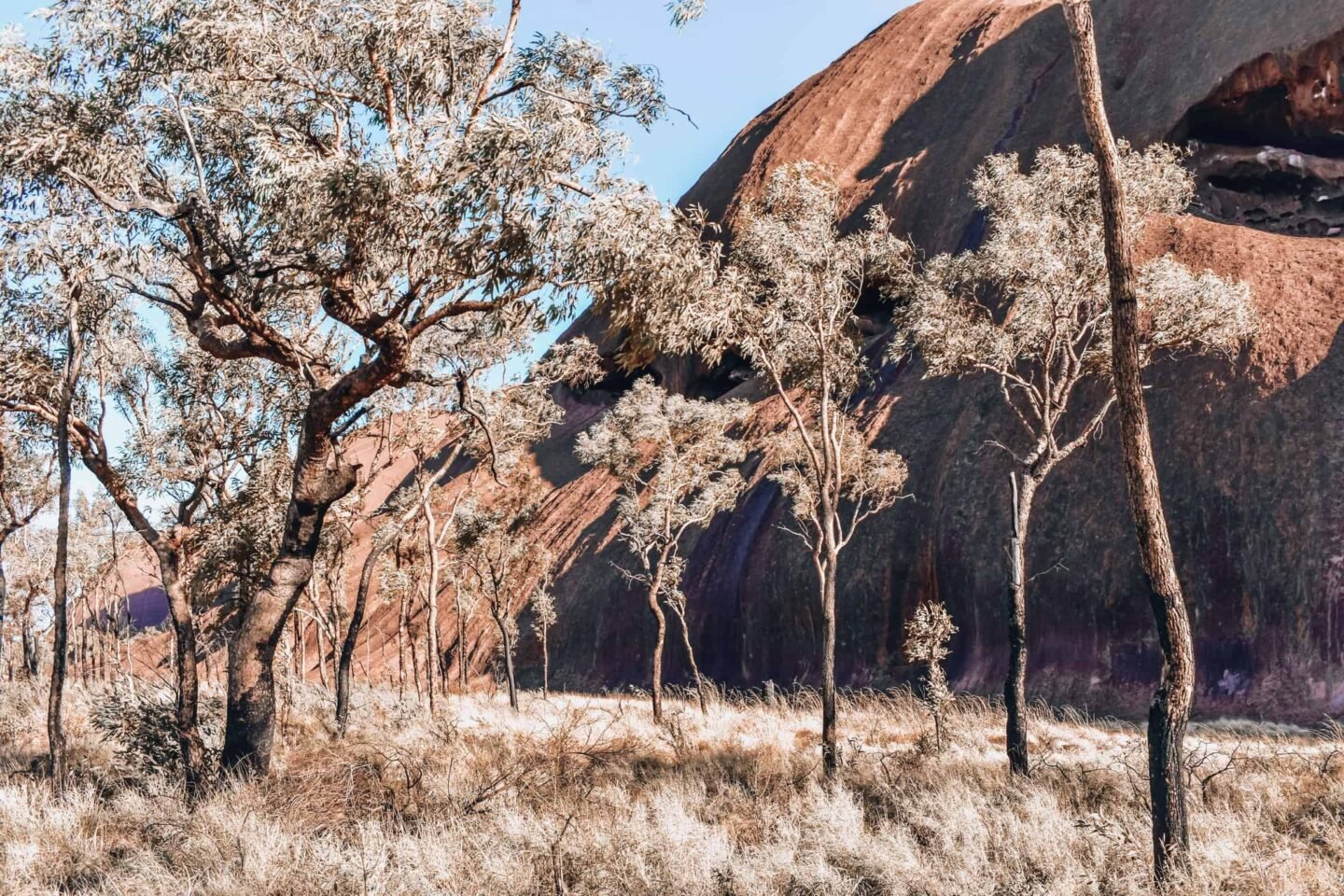 Uluru has been a very spiritual place to the Anangu people, the traditional owners, for thousands of years. Ask most people who visit and spiritual experience is the word they often use to describe it.
And that is exactly what it is.
Unfortunately, to many tourists over the years, the significance of Ayers Rock was as an extraordinary inland mountain that demanded to be climbed, touched, and violated. A chain rope was added to the rock face in the late 1950s to make it easier for climbers. The story goes that the man contracted to install the chains was asked to set them at hip height but his uncommonly small stature meant what was hip height for him was thigh-high for most. When tourism boomed in the area, most tourists made a point of climbing the rock, against the wishes of the traditional owners, and against the dangers that warned against it.
Luckily, times have changed. In 1985, Ayers Rock and the nearby Olgas were handed back to the traditional owners and the names were reverted back to Uluru and Kata Tjuta. Today, less than 20 per cent of tourists make the climb. Over the years, 37 people have died attempting the climb, while countless others have seriously injured themselves. At the end of 2019, the climb will be officially closed off to tourists.
END OF THE TOUR
Words can't describe the overall sense of happiness we all felt upon arriving back in Alice Springs after a full few days of adventuring. We had all come to see Uluru and its surroundings and had left having seen and done so much more.
And what better to celebrate with your new friends than at the local pub with a few drinks and a delicious meal.
Read More
---
@therocktournt 'Synchronised Sanding' Timing needs a little work haha #legends #therocktournt #adventuretour
Tours
Posted: January 29, 2019 00:00
Read More
---
Kelly Shannon reviewed The Rock Tour
Reviews
Posted: January 22, 2019 00:00
Just come back from the 4 day rock tour with Nicole as our amazing guide. I couldn't recommend this tour enough it exceeded my expectations and was an amazing outback experience. The food was great with a good variety. 
It might have been cold on the first night but seeing shooting stars while lying in my swag certainly made up for it ! Great value for money and a lovely meal with everyone at the rock bar to finish of the trip!
Read More
---
@therocktournt Driving into the sunset in the Red Centre ☀️
Posted: January 15, 2019 00:00
Read More
---
@therocktournt As the sun sets on one tour our guides are readying for the next. The adventure never ends in the Red Centre! #therocktournt #seeaustralia #adventureaustralia #adventuretour #backpackerlife #backpackertour
Posted: January 8, 2019 00:00
Read More
---
Alistair Strong recommends The Rock Tour
Reviews
Posted: January 1, 2019 07:00
This was an amazing tour - something everyone should do! The tour guide was great and I loved it all! Thanks also to the Rock people who found my sunglasses and dropped them off - you guys are legends!
Read our latest Uluru tour reviews
Read More
---
A backpackers guide to Uluru: Five reasons to visit Uluru
Uluru
Posted: December 27, 2018 07:00
A backpackers guide to Uluru: Five reasons to visit Uluru
A sacred location of the Aboriginal creation mythology, Uluru is a sandstone monolith steeped in mystery and blessed with stunning views. The monolith's cliffs, caves and crevices are adorned with engravings that unravel tales of Australia's ancestors. Hopes of catching a sunset or sunrise at Uluru is reason enough to visit the area. At these moments, the entire landscape gets submerged in effervescent colours of the sun and and the monolith glows red. For Australia's aboriginal people, this ancient rock formation symbolizes their culture and spirituality. Uluru is simply a powerful icon of Australia. If you want experience this amazing wonder up close and personal, join one of our Uluru tours and brave the journey.
Read More
---
@therocktournt Top day to visit the big red rock!!
Tours
Posted: December 25, 2018 00:00
Read More
---
10 Top Tips for Seeing Uluru on the Cheap
Uluru
Posted: December 20, 2018 07:00
Any Australian will tell you the one sight you do not want to miss when passing through the Red Centre is Uluru. It's the big one. The iconic beauty we know and love and the place which has come to symbolize Australia and its unique history. Unfortunately, you're unlikely to have unlimited dollars at your disposal and getting all the way out to the middle of the desert isn't cheap. But there are plenty of ways to save money and still get to enjoy the big red rock. Here are our top money saving tips to get you there without breaking the bank.
Read More
---
Another epic adventure filled day one in the Red Centre. Can't wait to do it all again tomorrow!
Tours
Posted: December 19, 2018 09:48
Read More
---
Haritz Bechet Ibarra rated The Rock Tour
Tours
Posted: December 11, 2018 18:49
Great value for money and nice food (even gluten free if you ask for it in advance). We had the BEST TOUR GUIDE EVER: Ben. What a bloody legend! Can't recommend this experience more ;)
Read our latest Uluru tour reviews
Read More
---
How to experience Uluru without walking on it
Uluru
Posted: December 6, 2018 15:32
When it comes to Australian icons, Uluru is about as iconic and Australian as it gets. This legendary, awe inspiring red rock rising out of the barren Outback isn't just a gob smacking sight. Uluru holds incredible importance to Aboriginal people, which is why from October 2019 the controversial climbing of Uluru will be banned for good. But don't despair! There are so many other, more respectful, ways of appreciating this Aussie beaut which are way more enjoyable than hauling yourself up the rock face.
Read More
---
No reception. No other tour groups at Uluru
Tours
Posted: December 5, 2018 12:35
Read More
---
Travel and accommodation in Uluru
Uluru
Posted: November 29, 2018 14:03
What's the best way to travel to Uluru?
Uluru is around 450 kilometres from Alice Springs, and there are plenty of ways to get here – you can fly, drive or join a tour.
▪    Flights – you can catch a flight to Alice Springs from Melbourne, Perth, Brisbane, Darwin, Adelaide, Cairns and Sydney. 
Or you can fly directly to Yulara (Uluru), a purpose built tourist settlement 8 kilometres from the entrance to the Uluru-Kata Tjuta National Park. Flights to Ayers Rock (Uluru) depart from Melbourne, Sydney, Brisbane and Cairns. Search for budget airlines like Jetstar and book in advance of your trip https://www.jetstar.com/au/en/....
▪    Drive - hiring out a car to drive to Uluru can help you to save money. Hertz Australia is a good cheap option, but make sure to shop around first! This way you can explore Australia's outback and drive along the famous Red Centre Way, seeing Uluru, Kings Canyon, the West MacDonnell Ranges and Alice Springs.
Read More
---
Things to do in Uluru on a budget
Uluru
Posted: November 29, 2018 13:47
You might think that a Budget Uluru Tours don't exist but we're happy to inform you that you're wrong. It is indeed possible to explore Uluru without spending a fortune and the memories will last you a lifetime. If you're planning on driving to Uluru by car, 4x4 or Camper you can purchase a park pass, which is valid for three days or can be extended to five at no extra cost. It can be bought easily and quickly online, or you can pick one up at the entry station on your way into the park. An adult ticket is priced at $25. Alternatively, you could choose to explore Uluru on a guided tour that provides transport, camping under the stars, meals a dedicated guide and other likeminded adventurers who are all on a mission to experience the Rock.
Read More
---
Amazing facts about Uluru
Uluru
Posted: November 29, 2018 13:25
Australia is without a doubt one of the most popular backpacking destinations in the world and is home to hundreds of iconic, unique and simply breath-taking attractions and views. Uluru is one of those places.
Uluru, also known as Ayers Rock, is a large sandstone rock formation located in the southern part of the Northern Territory in central Australia. It sits in the heart of Australia's Red Centre, and it situated within the Uluru-Kata Tjuta National Park – a dual UNESCO World Heritage Site.
Read More
---
A Backpackers guide to Uluru: 5 reasons to visit Uluru
Uluru
Posted: November 22, 2018 13:52
A sacred location of the Aboriginal creation mythology, Uluru is a sandstone monolith steeped in mystery and blessed with stunning views. The monolith's cliffs, caves and crevices are adorned with engravings that unravel tales of Australia's ancestors. Hopes of catching a sunset or sunrise from Uluru is reason enough to visit the area. At these moments, the entire landscape gets submerged in effervescent colours of the sun and and the monolith glows red. For Australia's aboriginal people, this ancient rock formation symbolizes their culture and spirituality. Uluru is simply a powerful icon of Australia. If you want to experience this amazing wonder up close and personal, join one of our awesome Uluru tours and enjoy the journey.
Read More
---
Cheap flights into Ayers Rock (Uluru) Airport
Uluru
Posted: November 7, 2018 14:39
Over the last few years Jetstar have been supporting the Northern Territory with direct flights from Sydney and Melbourne into Ayers Rock Airport. 
They have recently just started 3 times a week from Brisbane into Ayers Rock Airport (Monday / Wednesday / Friday) which is fantastic for customers who are on the East Coast and want to come and visit the Red Centre. 
Flights can start from $95 one way if you are lucky enough to get the SALE Price on www.jetstar.com.au, the majority of the time the price is around $150 - $200 each way but jump onto the website and look for the specials!
(Photo taken from Jetstar - www.jetstar.com.au)
Read More
---
Everything you need to know about sleeping in a swag
Tours
Posted: October 31, 2018 14:54
Liam our Office Manager has been checking in customers at The Rock Tour Office in Alice Springs over the last 8 years. The number one question he gets is:
"What is a swag and will I get a good night sleep?"
What is a swag? 

A swag is made out of heavy duty canvas, sewn into a cocoon-like bag providing warmth, comfort and security - the ultimate of all bush beds! They have a 2 inch thick comfy mattress. You sleep inside your sleeping bag inside your swag so your body heat is trapped inside your sleeping bag and swag. A lot warmer than a tent!
Read More